What is Tracheobronchomalacia (TBM)?
Tracheobronchomalacia (TBM), sometimes referred to as tracheomalacia, is a rare disorder that leads to significant difficulty breathing and limitations in day-to-day activities.  It is characterized by collapse of the trachea (windpide) and main bronchi (airways) leading to the lungs that is caused by weakness in the cartilage that gives the airways their proper shape.

What are the Symptoms of Tracheobronchomalacia?
Symptoms of tracheomalacia are non-specific, meaning they often overlap with other more common conditions, such as asthma and COPD.  As a result, the diagnosis of TBM is often delayed, or simply missed altogether.
Barking Cough: Patients with TBM often complain of a deep, barking cough that can be very troublesome, painful, and disruptive to their quality of life. Please play audio below to

 listen to a "barking seal"-like cough from a patient with severe TBM.
Shortness of breath
Wheezing despite inhalers
Difficulty clearing secretions
Recurrent lung infections
How is Tracheomalacia diagnosed?
A specialized computerized tomography (CT) scan of the chest or a Bronchoscopy can help diagnose tracheomalacia. CT scans of the chest can sometimes demonstrate the degree of airway collapse, but these findings can often be missed on routine CT scans which may lead to a delay in diagnosis. That occurs because routine chest CT scans are performed during inhalation, whereas collapse of trachea occurs during exhalation.  A specialized scan known as dynamic chest CT scan is necessary to elicit the collapse since this type of scan is performed during exhalation. 
Bronchoscopy is the gold standard for diagnosing tracheobronchomalacia. This involves insertion of a tiny, flexible camera down the windpipe to visualize and measure the degree of collapse. During bronchoscopy, the patient is asked to breathe deeply in and out.  In order to permit accurate assessment of TBM, this type of bronchoscopy is performed under mild sedation and general anesthesia is avoided.  This is called dynamic bronchoscopy.
What are Treatment Options for Tracheobronchomalacia in Adults?
In order to address tracheomalacia, it is imperative to understand and address other co-morbid conditions.
In adults, TBM is always associated with multiple other medical conditions, which can include:
Asthma and chronic obstructive pulmonary disease (COPD)
Chronic respiratory infections
Gastroesophageal reflux disease (GERD)
Obesity
Sleep apnea
Vocal cord dysfunction
Here at Weill Cornell Medicine | NewYork-Presbyterian, we use a comprehensive and collaborative approach to care for patients with tracheomalacia.
Multiple specialists work together to evaluate and treat any of the conditions above that may be contributing to or exacerbating your symptoms.  The overarching goal is to help you breathe naturally and effectively and to be free of the symptoms that are hindering your lifestyle.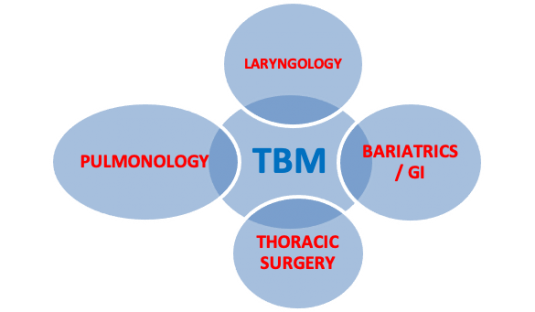 A Pulmonologist evaluates and optimizes concomitant pulmonary conditions, such as asthma and COPD, which are often present in patients with tracheomalacia. 
An Interventional Pulmonologist will perform dynamic bronchoscopy to diagnose tracheobronchomalacia and will insert a temporary stent to determine if stabilization of the trachea and/or bronchi can be expected in the resolution of symptoms
The Bariatric Team will address weight loss strategies in patients with obesity, which can result in difficulty breathing, sleep apnea, and other breathing disorders. Minimally invasive weight loss surgical options are available to selected patients with morbid obesity and severe TBM
A Gastroenterologist (GI) will evaluate patients for acid reflux and perform a study to determine the amount of acid that comes up into the esophagus. Most patients can be managed medically with antacids. A minority of patients with severe reflux despite medical therapy will need to undergo minimally invasive surgery to control reflux disease as part of their management of TBM
A Laryngologist (ENT) will examine your vocal cords to evaluate for any concomitant disorders like vocal cord dysfunction that affect your voice box and could contribute to difficulty breathing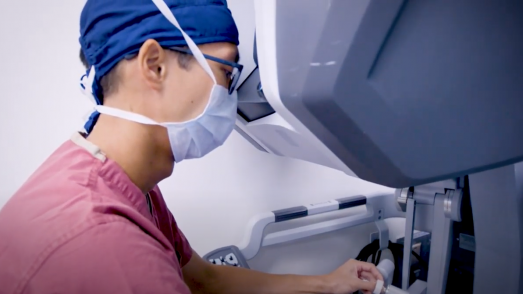 A Thoracic Surgeon can perform a surgery called tracheobronchoplasty (TBP).  Our program is home to several of the few specially-trained thoracic surgeons in the country who can perform tracheobronchoplasty.  This surgery involves suturing a mesh onto the back of the airway wall to support the floppy windpipe during breathing, thereby allowing air to travel without obstruction through the airways.  Depending on the patient and individual anatomy, tracheobronchoplasty can be performed either as an open surgery through an incision in the back, or minimally invasively (Robotic-TBP) using several small incisions and a robot controlled by the surgeon. 
What Makes our TBM Program Different?
Our tracheobronchomalacia program at Weill Cornell Medicine | NewYork-Presbyterian is one of the very few centers in the country to offer a true multidisciplinary approach in the care of patients with TBM.
Both Dr. Eugene Shostak and Dr. Oliver Chow are passionate about raising awareness and improving care for patients with this disease. From seeing multiple specialists, to addressing all aspects of your co-morbid conditions, to surgery using the latest technologies, we are confident that our TBM program at Weill Cornell Medicine | NewYork-Presbyterian can offer patients with TBM the very best care in New York City, the Tri-State Area, and the Northeast.   
Related News