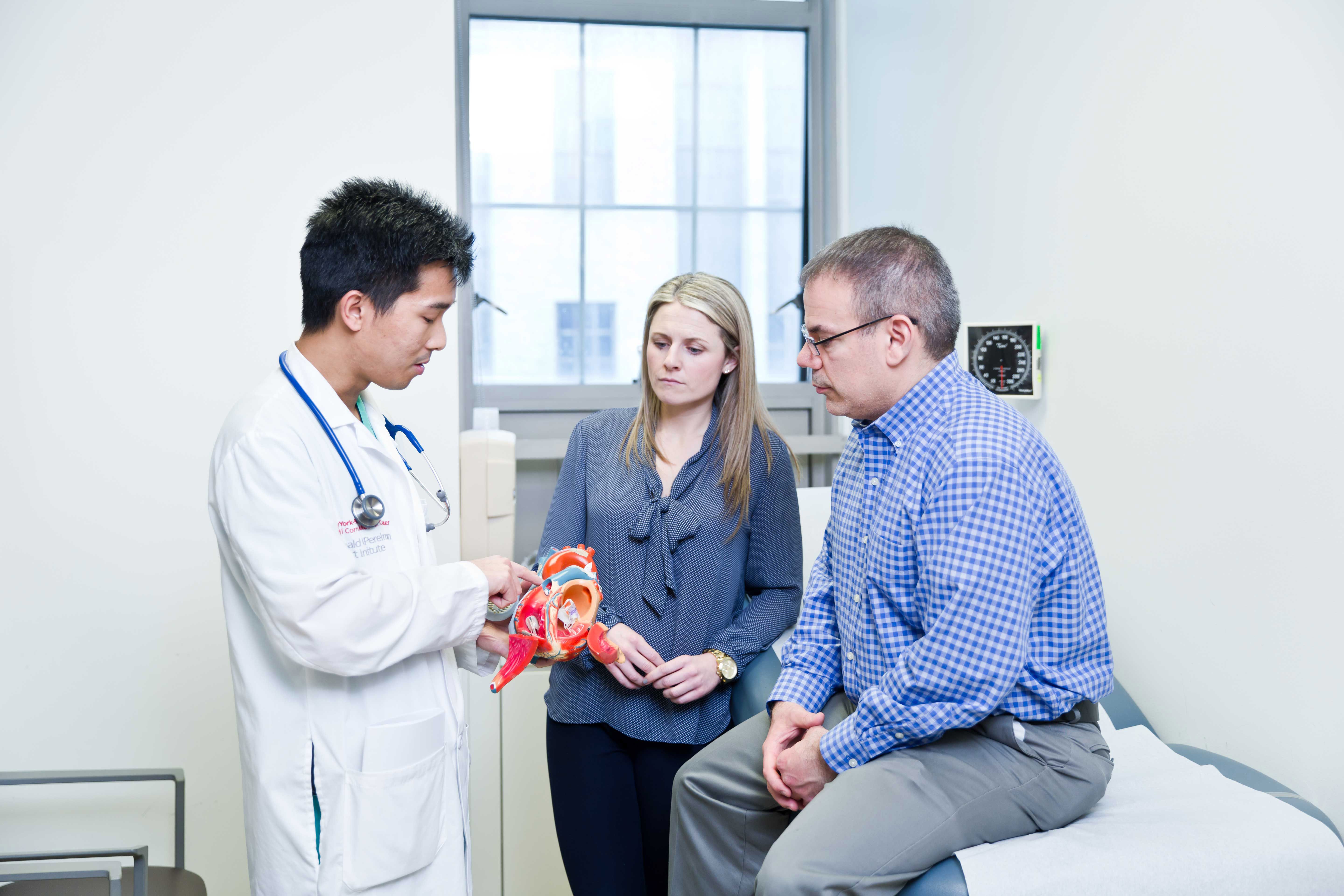 What are the two types of Heart Valve Problems and Causes?
Heart valves are flaps, or leaflets, of tissue that ensure that blood entering or leaving the heart moves in the proper direction, with no backflow. A heart valve can become dysfunctional in two ways: stenosis or insufficiency. Valve stenosis is due to the inability of the heart valve to open properly. As this tightening of the heart valve becomes increasingly severe, it prevents the heart from being able to pump enough blood through the valve. Valve insufficiency, or regurgitation, is due to ineffective closure of the valve that leads to blood being pumped backwards instead of forward.
The aortic valve is the main valve of the heart that controls blood flow between the heart and the rest of the body.
Aortic stenosis is most often due to calcification that builds up as one ages. Some younger patients who have a bicuspid aortic valve (a two leaflet valve instead of a three leaflet valve) develop aortic stenosis at an earlier age. A less common cause in the modern era is rheumatic heart disease, which is seen in people who had rheumatic fever as children.
Aortic insufficiency is often due to degeneration of the aortic valve tissue or damage to the valve from other causes. Patients with aortic aneurysms may have excessive stretching of the valve causing insufficiency. Weill Cornell Cardiothoracic surgeons perform a large number of aortic valve-sparing aneurysm repairs. This has allowed many of our patients to keep their own valves instead of replacing them with a prosthetic valve. This can provide a durable, life-long solution to aortic valve problems that helps avoid future operations or treatment with blood thinners. We have had a 0% mortality associated with this operation for over 15 years and 99% of those repaired using our current technique have not needed additional aortic valve surgery.
Weill Cornell Cardiothoracic surgeons are experienced in many techniques for repairing or replacing aortic valves. We will work with you to determine the best option for your specific circumstances. The optimal care of patients with valve disorders begins with an accurate diagnosis. Weill Cornell employs the latest echocardiography, ultrasound and CT technologies to obtain three-dimensional images of malfunctioning heart valves and peripheral vasculature, which allow us to determine the best course of treatment for each patient.
Weill Cornell Cardiothoracic surgeons have been implanting surgical aortic valves with open heart surgery for many years and have achieved results that are consistently better than the national average. The specialists at Weill Cornell Medicine|NewYork-Presbyterian are leaders in the development and evaluation of novel, less invasive techniques for repairing and replacing damaged heart valves. Many patients are candidates for minimally invasive aortic valve replacement or aortic valve replacement using modern sutureless valves. Weill Cornell Medicine|NewYork-Presbyterian is a leader in the development of percutaneous transcatheter valve replacement technology (TAVR and TMVR). Our team plays a leading role in the clinical trials assessing the latest percutaneous mitral and aortic valve replacement approaches, giving us more experience than most centers in these emerging new techniques. We have achieved superior outcomes using these innovative approaches, which make valve replacement possible for many patients who otherwise would not tolerate conventional heart surgery.
Patients who come to us receive comprehensive care from a team with exceptional experience in the repair and replacement of heart valves. A patient can meet with cardiologists, surgeons, and other healthcare professionals in one day, in one convenient location, to obtain a diagnosis and recommendations for a treatment plan.
Weill Cornell Medicine|NewYork-Presbyterian physicians have participated as investigators in two pivotal clinical trials which established the effectiveness of percutaneous (transcatheter) valve surgery:
The PARTNER Trial, which in 2011 demonstrated that transcatheter aortic valve implantation (TAVI) was as effective as conventional open-heart surgery for reducing mortality among high-risk patients with aortic stenosis. In 2010, PARTNER Trial investigators reported that patients who were not candidates for surgery fared much better with TAVI than patients who were treated medically. Currently, our team is conducting a new trial assessing the safety and efficacy of the SAPIEN 3 transcatheter heart valve in low risk patients. 
The EVEREST II trial, which evaluated the percutaneous implantation of a clip that grasps and approximates the edges of the mitral valve leaflets. The percutaneous approach was associated with superior safety and similar improvements in clinical outcomes compared with conventional surgery.
Weill Cornell continues to evaluate transcatheter approaches for mitral and aortic valve replacement by participating and enrolling patients in the Everest II, Partner II, and Partner III trials.
Other Resources