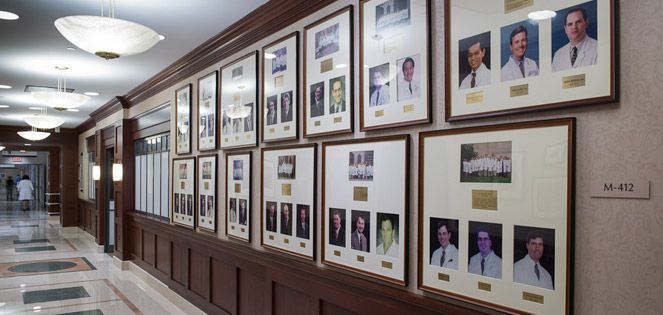 "The residency program provided outstanding surgical training with the perfect balance of mentoring and independence. We were also given the authority and responsibility to care for our patients, with the appropriate level of supervision. Ultimately, as a result of this approach, we became not only outstanding surgeons, but amazing physicians, and many of us have become leaders in the field of cardiothoracic surgery."
Alistair Phillips, M.D.
Chief, Division of Congenital Heart Surgery
Co-Director, Congenital Program
Cedars-Sinai Heart Institute
"The Weill Cornell Medicine Department of Cardiothoracic Surgery is totally committed to patients, applying the latest innovations to enhance patient care. This residency afforded me the opportunity to learn from and work with the best surgeons and best doctors in the hospital, including technically gifted attendings. I benefited from the hands-on direction and teaching in surgery and patient care, appreciating the fantastic balance between being allowed to work independently and under supervision.
Today I am part of a lifelong network of colleagues."
Daniel G. Ciaburri, M.D., FACC, FACS, MBA
Lead Cardiovascular Surgeon
OSF Healthcare
"I loved my residency at Weill Cornell Medicine! In fact, when the long two years of it were done (and we were up most of those two years), I can safely say that I would have signed up again in a heartbeat. The experience is as good as it could get…tons of great cases, and the faculty are outstanding surgeons and incredible individuals. They are really good at allowing residents to learn to function autonomously and progress operatively at a great pace. The residency made me a much better surgeon and academic physician-scientist and gave me a great preparation and base for my career. I would never have been able to achieve half of what I have without the outstanding training and mentorship that my CT residency at NewYork-Presbyterian Hospital and Memorial Sloan-Kettering Cancer Center afforded."
David M. Jablons, M.D.
Professor and Chief Thoracic Surgery
UCSF Department of Surgery
Ada Distinguished Professor of Thoracic Oncology
Program Leader Thoracic Oncology
UCSF Helen Diller Comprehensive Cancer Center
"The Weill Cornell Medicine|NewYork-Presbyterian residency in Cardiothoracic Surgery is the premier training program in the country due essentially to three key features: 1) the integral role of the fellow on the service (i.e., every aspect of the service is centered around the fellows); 2) a high clinical volume representing all aspects of cardiothoracic surgery, and 3) the responsibility given to each fellow is unique and prepares them to handle all aspects of a cardiothoracic patient's care."
Charles A. Mack, M.D.
Associate Professor of Cardiothoracic Surgery
Weill Cornell Medical Center
A high percentage of the graduates of our residency program go into academic medicine and are successful in leadership positions. Examples include:
| Name | Start Date | Graduate Date | Currently |
| --- | --- | --- | --- |
| Newell B. Robinson | 7/1984 | 6/1986 | Chairman of Cardiothoracic and Vascular Surgery Department St. Francis HospitalThe Heart Center: Roslyn, NY |
| Steven Keller | 7/1985 | 6/1987 | Director of Thoracic Surgery - Weiler Division Montefiore-Einstein Medical Center: Bronx, NY |
| Stephen J. Lahey | 7/1985 | 6/1987 | Chief, Program Director, University of Connecticut Health Center Division of Cardiothoracic Surgery: Farmington, CT |
| Lawrence H. Durban | 7/1987 | 6/1989 | Director of Thoracic Surgery - St. Francis Hospital – The Heart Center: Roslyn, NY |
| Gabriel S. Aldea | 7/1988 | 6/1990 | Chief, Division of Cardiothoracic Surgery - University of Washington: Seattle, WA |
| Todd K. Rosengart | 7/1989 | 6/1991 | Professor and DeBakey-Bard Chair of Surgery - Baylor College of Medicine, Surgery: Houston, TX |
| James Taylor | 7/1989 | 6/1991 | Chief, Division of Cardiothoracic Surgery - Stony Brook Medicine: Stony Brook, NY |
| David William Johnstone | 7/1990 | 6/1992 | Director of the Lung Cancer Program - Medical College of Wisconsin: Milwaukee, WI |
| William Gerald Jones II | 7/1990 | 6/1992 | Chief of Texas Cardiothoracic Surgery Associates: Dallas, TX |
| John M. Brown II | 7/1991 | 6/1993 | Chief, Mid-Atlantic Surgery Associates - Morristown Memorial Hospital: Morristown, NJ |
| David M. Jablons | 7/1991 | 6/1993 | Chief, General Thoracic Surgery, Program Leader of Thoracic Oncology Program, of California San Francisco: San Francisco, CA |
| Tyrone Jones Krause | 7/1991 | 6/1993 | Chief, Cardiothoracic Surgery, Liberty Heart Institute: Jersey City, NJ |
| Robert B. Cameron | 7/199 | 6/1994 | Director of Mesothelioma Program, Surgical Director Lung Volume Reduction Program, University of California, Los Angeles: Los Angeles, CA |
| Edward R. Kofsky | 7/1992 | 6/1994 | Medical Director of Cardiothoracic and Vascular Surgery, Cardrdiothoracic and Vascular Surgery, Valley Health System/Winchester Medical Center: Winchester, VA |
| James D. Luketich | 7/1993 | 6/1995 | Henry T. Bahnson Professor of Surgery,Chairman, Department of Cardiothoracic Surgery, Chief, Division of Thoracic and Foregut Surgery, University of Pittsburgh: Pittsburgh, PA |
| Vincent DeFillipi | 7/1994 | 6/1996 | Medical Director of Stanford Cardiac Surgery Program- Salinas Valley Memorial Hospital: Salinas, CA |
| Leonard N. Girardi | 7/1994 | 6/1996 | Chairmam, O. Wayne Isom Professor, Cardiothoracic Surgery , Department of Cardiothoracic Surgery, Cardiothoracic Surgeon-in-Chief - Weill Cornell Medicine: New York, NY |
| Todd M. Dewey | 7/1995 | 6/1997 | Senior Director, Chief of Thoracic Surgery, Medical City Dallas Hospital: Dallas, TX |
| Ferdinand Velasco | 7/1995 | 6/1997 | Chief Medical Information Officer: Arlington, TX |
| Benny Weksler | 7/1995 | 6/1997 | Chief Thoracic Surgery, Methodist Healthcare - University of Tennessee Health Science Center: Memphis, TN |
| Paul Burns | 7/1996 | 6/1998 | Deborah Heart and Lung Center - Mid-Atlantic Surgical Associates: Browns Mills, NJ |
| Robert Korst | 7/1996 | 6/1998 | Director of Thoracic Surgery and Medical Director of the Daniel and Gloria Blumenthal Cancer Center: Paramus, NJ |
| Richard J. Battafarano | 7/1997 | 6/1999 | Regional Director of General Thoracic Surgery, Johns Hopkins Hospital: Baltimore, MD |
| Leonard Y. Lee | 7/1999 | 6/2001 | Chief, Division of Cardiothoracic Surgery - Robert Wood Johnson University Hospital: New Brunswick, NJ |
| Richard Leone | 7/2000 | 6/2002 | Medical Director PeaceHealth - St. Joseph Medical Center, Cardiothoracic Surgery: Bellingham, WA |
| John A. Goncalves Jr. | 7/2001 | 6/2003 | Director of Cardiac Surgery and Surgical Director of the Transcatheter Aortic Valve Replacement (TAVR) Program of The Valley Heart and Vascular Institute (HVI) The Valley Medical Group: Ridgewood, NJ |
| Paul C. Lee | 7/2001 | 6/2003 | Director of Thoracic Surgery, Director of Northwell's Comprehensive Foregut Lung Center - Long Island Jewish Medical Center: New Hyde Park, NY |
| Alistair B. Phillips | 7/2001 | 6/2004 | Chief, Division of Congenital Heart Surgery, Co-Director, Congenital Program - Cedars-Sinai Heart Institute: Los Angeles, CA |
| David J. Finley | 7/2006 | 6/2008 | hief, Thoracic Surgeyr, Dartmouth-Hitchcock Medical Center, Director, Comprehensive Thoracic Oncology Program - Norris Cotton Cancer Center: Lebanon, NH |
| Inderpal S. Sarkaria | 7/2007 | 6/2009 | Vice Chair of Clinical Affairs and Director of Thoracic Robotic Surgery - University of Pittsburgh Medical Center: Pittsburgh, PA |
| Farhood Farjah | 7/2010 | 6/2012 | Associate Medical Director of Surgical Out s Research Center - University of Washington: Seattle, WA |