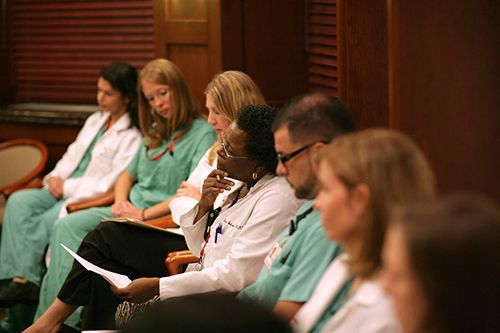 At Weill Cornell Medicine|NewYork-Presbyterian Hospital we provide a comprehensive, multidisciplinary care for patients with cancerous and non-cancerous airway disorders. Our team consists of interventional pulmonologist, thoracic surgeons, ear nose and throat (ENT) surgeon, pulmonologists and radiologists. Learn more information about each specific condition below.
Obstruction of windpipe by tumor
Patients with cancerous obstruction of the trachea or main bronchi, also known as a malignant central airway obstruction, can present with shortness of breath, wheezing, coughing up blood and low oxygen level in the blood. Treatment of central airway obstruction results in improvement in quality of life and functional status. We offer a full range of therapeutic options for patients with tumor blocking the airway including combination of flexible bronchoscopy rigid bronchoscopy, stent placement and tumor destruction using the following tools:
Electrocautery – application of electric current to achieve tumor destruction
Argon plasma coagulation – application of argon gas to achieve tumor destruction
Cryotherapy – tumor destruction using extreme cold
Mechanical excision of tumor under optical control
Airway stents can maintain patency of part of the lung blocked by tumor. Placement of airway stents requires specialized training. At New York Presbyterian we offer insertion of all types of airway stents. Our dedicated team of respiratory therapists and case managers will assist you with proper use of inhalers following stent insertion and delivery of oxygen and nebulizer equipment for home use.
Narrowing and scarring of windpipe
Narrowing of windpipe, also known as tracheal stenosis, can present with shortness of breath, wheezing originating from the neck and inability to clear secretions. It is a potentially life threatening condition that may result after intubation or prior tracheostomy placement. Tracheal stenosis can also result from a number of various inflammatory lung diseases. Our multidisciplinary team of specialists, which includes interventional pulmonologist, thoracic surgeon, ENT surgeon and radiologist, deliver patients comprehensive approach to diagnosis and treatment. We offer a wide range of bronchoscopic treatment options, which in some cases allow patients to avoid surgery. These include dilation of stricture, using a combination of endoscopic tools such as miniature knife and high pressure balloon. Patients who are unable to phonate due to tracheostomy or other disorders of the windpipe may be candidates for placement of Montgomery T-tube. This silicone airway prosthesis enables suctioning through the stoma, allows for phonation and appears cosmetically attractive.
Tracheobronchomalacia, or excessive airway collapse during exhalation
Tracheobronchomalacia, or TBM, is an under-recognized condition of unknown cause that results in excessive narrowing of main air passages during exhalation. Patients often present non-specific symptoms such as shortness of breath, barking cough, recurrent lung infections and wheezing. The diagnosis of TBM is often delayed as many patients are treated for more common conditions such as bronchitis and asthma. TBM has also been associated with poorly controlled gastrointestinal reflux disease (GERD) and vocal cord dysfunction (VCD). We utilize a multidisciplinary team of physicians, including interventional pulmonologist, thoracic surgeon, pulmonologist, laryngologist, radiologist and gastroenterologist when evaluating patients with TBM. Our multidisciplinary program offers:
Dynamic airway CT - dedicated airway CT which is performed during spontaneous breathing, Bronchoscopy to evaluate the location and the severity of airway collapse,
Bravo pH monitoring test – a 48 hour evaluation for gastrointestinal reflux disease
Laryngoscopy for evaluation of vocal cord function by laryngologist
Pulmonary rehabilitation with optimization of medical co-morbid conditions
Treatment of tracheobronchomalacia includes a short term stent trial and surgery for selected candidates.
We also treat the following conditions:
Tracheo-esophageal fistula, an abnormal communication between windpipe and food pipe
Foreign Body Removal