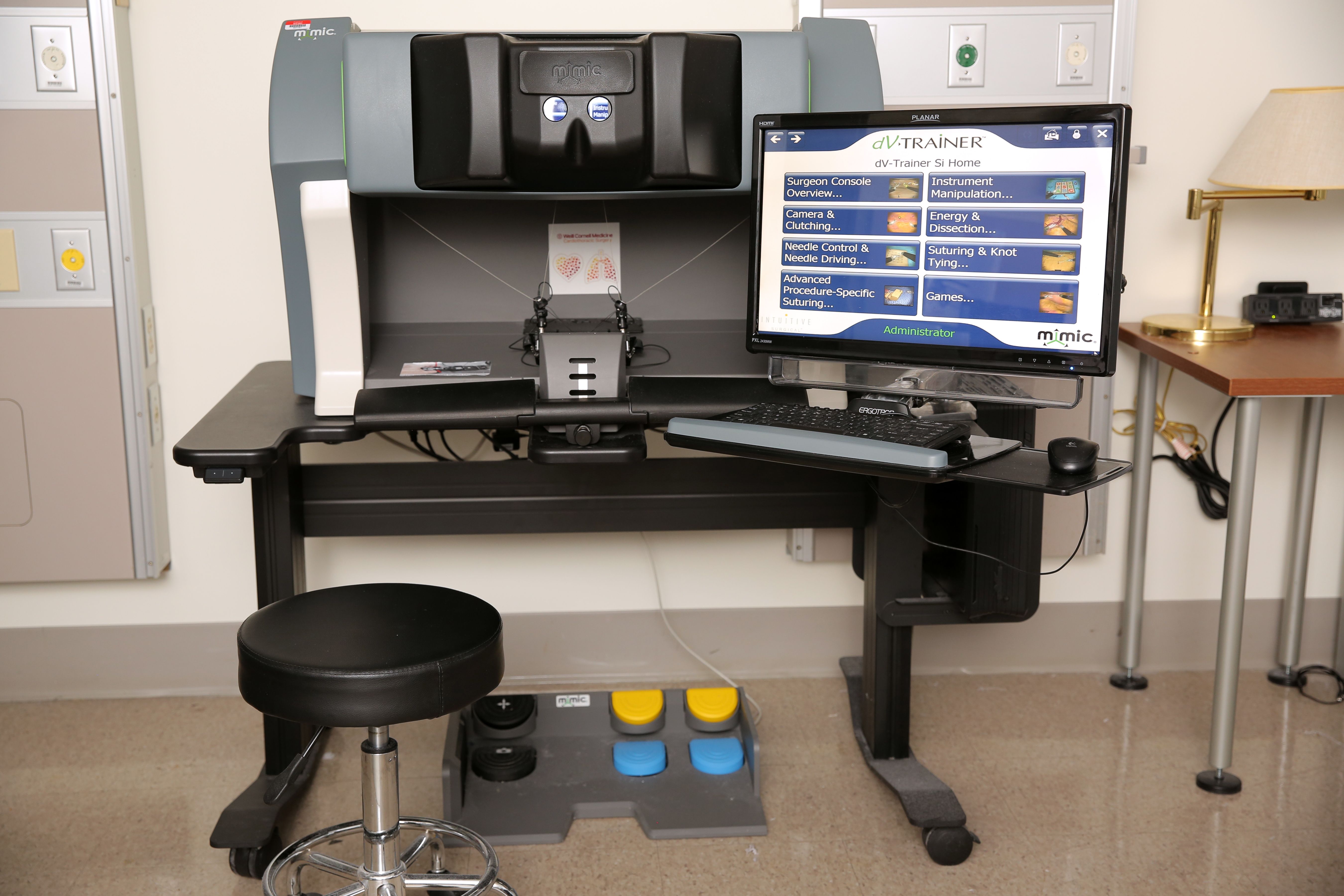 The Department of Cardiothoracic Surgery at Weill Cornell Medicine offers a robust training experience in both robotic thoracic surgery and robotic cardiac surgery. Our cardiothoracic residents progressively work towards achieving their optimum skills in robotic surgery. This is accomplished primarily by active participation in a large variety of robotic cases including:
Robotic mitral valve repair and replacement
Robotic coronary artery bypass (totally endoscopic coronary bypass or TECAB) and robotic assisted coronary bypass or MIDCAB (minimally invasive coronary artery bypass)
Robotic pulmonary lobectomy
Robotic-assisted esophagectomy
Robotic Thymectomy
Many other procedures
A critical component of our resident robotic surgery training program is delivered through our Mimic® dV-Trainer Robotic Simulator, a sophisticated robotic simulator and software platform for developing advanced robotic skills. This is usually located in our CT Surgery resident's on-call room so that busy residents can have 24/7 access to it.
Robotic surgery simulation in the Department of Cardiothoracic Surgery offers a safe learning environment, without risk to a patient. It is open to surgeon/resident collaboration, cooperation, and research. In addition, through the dV-Trainer Robotic Simulator and software, we offer:
The only robotic simulator that has been independently validated in multiple studies to show face, content, construct, and concurrent validity
8 training modules and 70+ training exercises of progressing levels of difficulty
Course administration tools that allow for customized training curriculum
Extensive tools for performance evaluation and metrics collection, including tools for metrics and database export