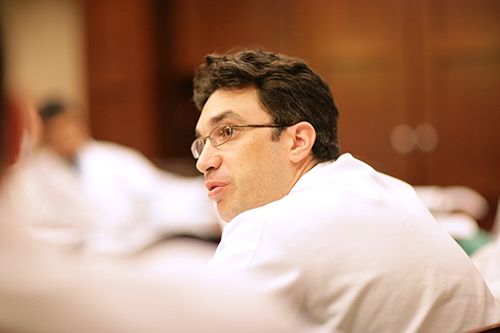 Bronchoscopy is the most commonly performed procedure in interventional pulmonology. Bronchoscopy involves insertion of a thin camera through the mouth into the windpipe, allowing for a complete examination of the air passages. Biopsies can be obtained at the time of the procedure. Majority of bronchoscopies are performed under general anesthesia, during which you are kept comfortably asleep with no discomfort or recollection of events post procedure.
Find out more information about each specific condition:
Endobronchial Ultrasound
Lung cancer can present as a pulmonary nodule or as an enlarged lymph nodes in the chest. At NewYork Presbyterian Hospital we utilize the latest technology diagnosing patients with lung nodules and enlarged lymph nodes in the chest called endobronchial ultrasound or EBUS. This technology consists of a tiny ultrasound probe attached to the tip of the bronchoscope, which allows us to visualize and sample lymph nodes located outside the airway passages. Endobronchial ultrasound therefore permits us to diagnose and stage lung cancer during the same procedure. This often obviates the need for a surgical procedure called mediastinoscopy, during which lymph nodes are removed through a small incision created above the collar bone. Endobronchial ultrasound is also an effective tool for diagnosis of non-cancerous lung diseases.
Electromagnetic Navigation Procedure
Many patients who present lung nodules will require a procedure to obtain tissue for diagnosis. Traditionally, the yield of reaching a nodule that is deep within the lung located with bronchoscopy has been very low. We offer a cutting edge technology called electromagnetic navigational bronchoscopy, which uses a catheter with GPS tracking capabilities to locate difficult to reach lung nodules under image guidance. The use of image guided bronchoscopy significantly increases the yield compared with conventional bronchoscopy and, when combined with endobronchial ultrasound, permits us to sample lung nodules and chest lymph nodes during the same procedure, thus minimizing the number of procedures required to obtain diagnosis.
Narrow Band Imaging
Examination with conventional bronchoscopy can sometimes miss subtle changes that may potentially harbor early stage cancer. At NewYork Presbyterian, we utilize narrow band imaging – a novel bronchoscopic imaging technique that uses light in blue and green wavelength spectrum to enhance certain aspects of airway lesions, thereby guiding the location for biopsy and increasing the detection rate of precancerous or early cancer lesions.